Ambulatory Care Center
Skokie Hospital, IL
Project Overview
New 5-story building to include medical office space for Internal Medicine/Family Medicine, OB/GYN, Outpatient Pharmacy, Outpatient Lab Services, Physical Therapy, Pelvic Health, Neurology, Gastroenterology, Dermatology, General Surgery Specialties, Mammography, MRI, X-Ray, and the NorthShore Orthopaedic Institute.
Project Goals: Provide a patient-friendly and convenient experience by consolidating the NorthShore out-patient practices on the Skokie Hospital Campus.
Project Details: 120 Exam rooms, 3 X-Ray rooms, 1 MRI, 2 Mammography rooms, 1 Stereotactic room, 1 Bone Density room, 1 Ultrasound room, 1 Procedure/C-arm room, 1,600 SF Outpatient Pharmacy, 5 Lab Draw Stations, 3,200 SF Outpatient Physical Therapy suite, 361 Parking Spaces including 21 handicap spaces, and staff access as well as utility connections.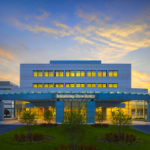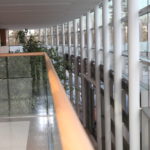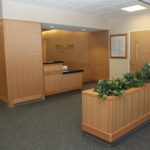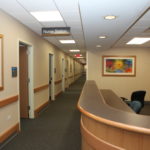 Outcomes
This project was a success that included a well-orchestrated series of move-in dates that occurred over a 3- weekend period of time resulting in no lost patient care.
When the project required the closure of a section of Payne Street to reroute ER traffic, IFS communicated closely with Skokie Hospital staff and Skokie Fire Department to allow uninterrupted flow of traffic to the ER.
BIM Coordination meetings were held early on to discover the impacts the utilities would have on each floor and also relative to the floor above and below. This resulted in an efficient project being built on (4) floors simultaneously without any conflicts.
Sections of the North Parking Lot needed to remain open to provide patient parking during the duration of the project. IFS provided careful coordination with Skokie staff to ensure patient safety and convenience throughout the duration of the project.